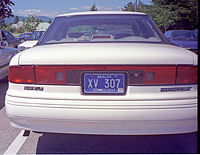 These plates are issued to new car dealers who are operating under a manufacturer's or importer's contract.
The plates are to be used for demonstrating new vehicles, on vehicles picking-up or delivering parts, or loaned to a purchaser while a pending registration is being processed. Full-time dealership employees are also allowed use of these plates for personal use.
Starting in 1961, dealer plates became annual issues – the plates were replaced every year. The colors were blue on white for odd years, and white on blue for even years. This practice continued through 1980. The year of expiration was stamped into the plate.
In 1980, the white on blue plates had reflectorized numbers. In 1981, instead of replacing the plates as usual, a decal was used to validate the plates through 2/82. Decals were used in some form through the 1997 expirations, on several different bases.
Help us! We're working on compiling a list relating new car dealer numbers to specific dealerships. Take a look at where we are now.
Also, I thought it would be neat to line up all of my one- and two- digit new car dealer plates. I don't have many yet, but if you have one I need which you'd like to sell or trade, let me know! See them here.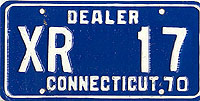 1970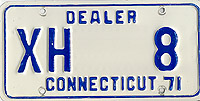 1971
1972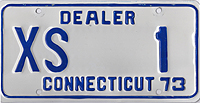 1973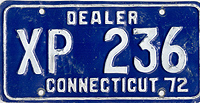 1972
Here is an oddity – this plate was originally stamped as "XR" but it was corrected before it left the prison. See image at right.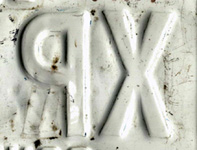 Reverse of the plate at left.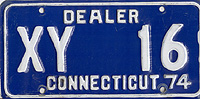 1974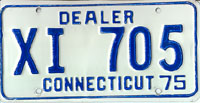 1975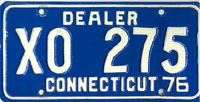 1976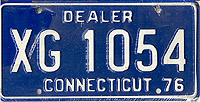 1976, with the narrow dies which generally didn't come into use until the '77 expiration plates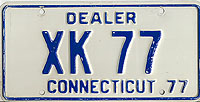 1977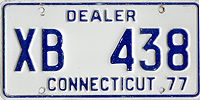 Another 1977, with the numbers/letters justified to the ends as was the standard practice until 1977. This was not common for the 1977 plates; most are centered.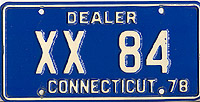 1978
1979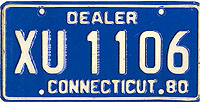 1980
Starting with the 1980 plates, reflectorization was added to the numbers
1982
There were no 1981 expirations. Decals were used on the 1980 plates through 1984.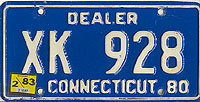 1983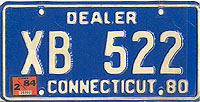 1984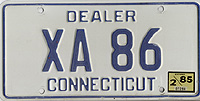 1985
New plates were issued with reversed colors, to be used through 1987.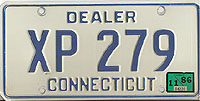 1986
Starting with the 1986 decals, New Car Dealer plates had differently colored decals from Used Car Dealer plates.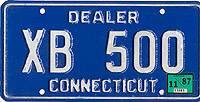 1987
Colors were reversed again. These plates saw much more use than the last few series – they were used through 1997.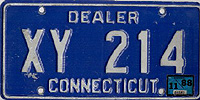 1988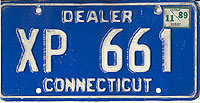 1989