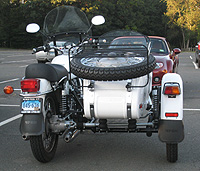 These plates are issued to motorcycles.
This type started in 1903. From 1903 through 1911, the registrant supplied their own (homemade) plates.
In 1912, state-issued plates were introduced. These looked very similar to passenger car plates, in color and format (including "C" prefix), though the size of the plate was smaller. This concept stayed the same through 1936. Plates of this style with reversed colors are sidecar plates. These were issued from 1916 through 1923.
While passenger car plates moved to a semi-permanent design in 1937, annual motorcycle issues remained through 1942. They were then revalidated with corner date tabs through 1954.
Annual plates were issued through 1961. After this, the plates were revalidated with passenger-type decals expiring in March, beginning with the 1963 expirations. There are very very few 1962 dated plates – these have a stamped date and were likely only issued to new registrants while all of the existing plates were transitioning from annual to two-year expirations.
In 1970, the "standard" motorcycle plate size was adopted and has been used since.
At this time an all-numeric series started at 10000, continuing into 6 digits a couple of years later. The 6-digit all-numeric format continued until the mid-2010s, well into the 900-000 series at which time a much more confusing numbering format was introduced – 00-AAAA.
Municipal motorcycle plates have been issued, though most municipally-owned motorcycles (i.e. police) use regular-issue plates. State police motorcycles also use regular-issue plates.
Veteran and "Early American" motorcycle plates were introduced around 2000. See the Early American page for details of this type.
Finally, handicapped Motorcycle plates are issued as well – with 3 numbers followed by an -M& or -N& suffix.
Click the image above to see this type in use.

1916
4 extra holes along the top, but still a decent affordable example of this type

1960

1966
This style of plate started with the 1963 expirations.

1969
Plates were changed to blue on white for 1967. Two-letter prefixes were also used on this style of plate.

Revalidated to 1978
The new "standard" sized motorcycle plates now featured narrower dies, which allowed for more than 4 digits. A new 5-digit series started at 10000.
1971
1972
The "CONN" legend used to be offset to allow space for the decal.
For some reason this was later centered and resulted in bolts through the decal.

1974
Numbering progressed into 6 digits.

1960's low number revalidated to 1974.

1976 Low number

1976

Another 1976.
Why show this rusty plate here? It's one of the highest numbers made on this style of plate.

1977 Polyvend
This issue started in 1974 at number 300000. I've seen up to around number 393000.

Another 1977, less yellowed.

1980

Revalidated to 1983

Revalidated to 1985

1982

Another revalidated to 1982

1981
There was a short period of time where the dot was not used.

The dot was missing in the 425 series.

1982. Still with no dot.

1983
Still missing the dot in the 428 series.

1985

Early motorcycle vanity, on a steel plate, revalidated to 1999. The blue plates were always aluminum, this is an anomaly.

1986

1987
The "CONN" was shifted to the left a bit between numbers 524-655 and 525-643.

1988

1989

ca. 1989

1990

1990
When the "Map" base passenger car plates came out in 1987, the state name was moved to the top of those plates. The same move was made for motorcycle plates, though no map graphic was added. This took place between numbers 574-896 and 575-070.

1995

1997
1997 vanity.
A gentleman named Art had this on his 1991 BMW R-100 'Classic'
1999

2000

2001

2002 Vanity.
This one was on Art's '93 BMW K75

Plate used until the general reissue in 2000-2002.

ca. 2000
2000/2002 on the new reflective base.

2003
Older number remade on the new base.

2004

2005

Motorcycle plate with "60 Days" decal. These decals were also used on passenger car plates. I am told they had something to do with delinquent taxes, though I am not sure that is really the case. In any event, it is amusing to see these – the plate expires 60 days from when? From today, of course!

ca. 2020s in the current numbering format. This format is shared with Early American, Spec. Equip. and probably a few others. The letters change first: starting at 00-AAAA running through 00-ZZZZ, presumably followed by 01-AAAA through 01-ZZZZ, etc.