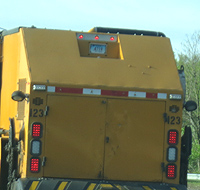 Special Equipment license plates appeared in the mid-1980s. According to the DMV, they are used on vehicles "not designed for transportation of persons or property on the highway"; including, but not limited to:
Ditchdigger, well-boring apparatus, asphalt spreader, bituminous mixers, bucket-loader, street sweeper, ditchers, level graders, finishing machines, motor graders, road rollers, scarifiers, earth moving carry-alls and scrapers, power shovels and drag lines, self-propelled cranes and earth moving equipment.
This type was continued on motorcycle-sized light blue plates during the general reissue in 2000.
Numbering on the older style appears to have reached around 1800 or so.
"Special Equipment Dealer" (Dealer SX) plates are not directly tied to this type – it is more of a coincidence that they share the same name.
1989

2002

2002 on the new base

2004