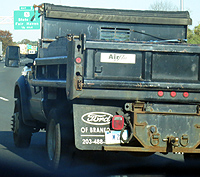 These plates are used on vehicles operated by the Connecticut Military Department. This department encompasses various units, including the State Guard, the Connecticut National Guard, the Governor's Foot and Horse Guards, and various armories and related facilities.
National Guard plates were issued beginning in the mid-1920s. In the 1920s, these plates were similar to Commercial plates, with reversed colors from passenger plates, "Conn. 1927" at the bottom, and a "National Guard" legend at the top. Numbering format was 12-345. The main difference between National Guard plates and Commercial plates at the time was the length of the plate – National Guard plates were considerably longer. In the 1930s, these remained similar to Commercial plates, with the "National Guard" legend at the bottom and "Conn. 1937" at the top. Serial numbers are in the 12-345 format.
Rare examples are known for the 1940s and possibly 1950s, still in the style of commercial plates, with a "State Guard" or "Military" legend at the top or bottom, depending on the year. Serial numbers appear to have been shortened to 1 to 3 digits at this time.
In the early/mid 1970s, the present iteration of Military plates was introduced. These plates were white on blue with a "Military" caption at the top center. Plate numbers appear to be limited to 1 and 2 digit all-numeric serials.
This type continued on through the "map" base in a similar style, with the "Military" legend moved to the bottom center with the issuance of the map-style plates in 1987.
Currently these plates are on the blue fade base, "Military" legend screened in blue at the bottom center, and serial numbers in the M-12 format. These plates have also been noted on the "State Vehicle" base.
Click the photo above to see this type in use.
ca. 1990s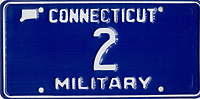 Another ca. 1990s
For the longest time I had none of these, now I have ended up with 2.