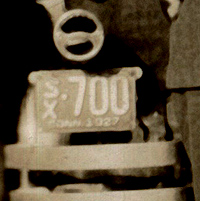 These plates are issued to commercial truck dealers. They can be used for vehicle demonstration purposes while under load, while regular dealer plates can be used for unladen vehicles only.
This type was first listed in the registration books in 1919, with numbers 1 through 49 initially reserved that year; though examples are reported as early as 1917. These early plates had an SX prefix, which continues to this day. When this was introduced, normal dealer plates had an 'X' prefix. Thus, Special Dealer logically became 'SX'. Generally these plates have followed the same design and colors as New and Used car Dealer plates.
However, unlike New and Used Dealer plates, these plates are issued consecutively – there is no prefix letter used for the group of plates issued to a particular dealer.
Briefly, for the 1954-1956 plates, "Spec. Dlr." was spelled out on the plates.
These plates are often loaned by the dealer to someone who has purchased a new truck, for use while the registration is being processed. Also, they are used on loaner trucks while a customer's truck is being repaired. This is allowed for not more than 15 days per year per customer.
Until 1967, these plates were also used on trailers owned by boat dealers, for transporting boats and trailers between the place of business and a demonstration location.
Click the photo to see this type in use.
Reference: Chapter 246 Sec. 14-59, 14-60, 14-63-16.
1924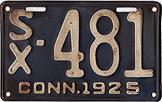 1925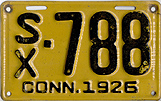 1926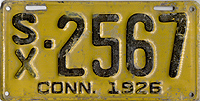 Another 1926.
Like passenger car plates, the length of the plate varied with the number of digits.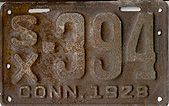 1928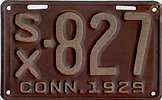 1929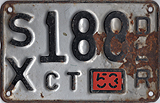 1953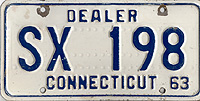 1963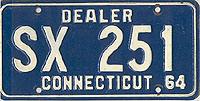 1964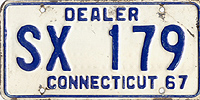 1967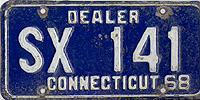 1968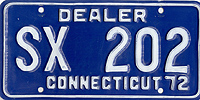 1972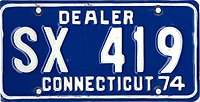 1974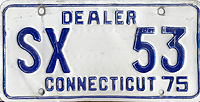 1975
1976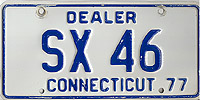 1977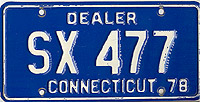 1978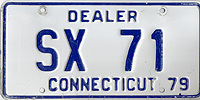 1979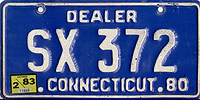 1983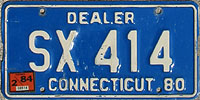 1984
2000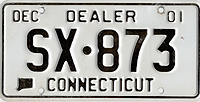 2001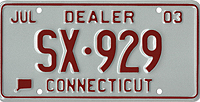 2003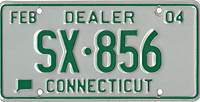 2004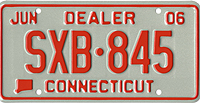 2006
There are a few unused 2006 plates around with SXB- and SXC- prefixes.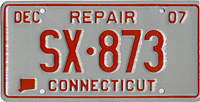 2007
Oops! Wrong type legend on this plate.