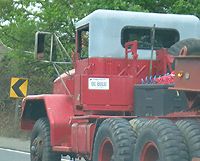 Classic Vehicle plates are issued for use on collectable vehicles at least 20 years old. This type replaced "Early American" plates on March 29, 2014, though existing E/A registrations will continue to be renewed. These plates use the same Class Code 25 in the DMV system as the previous Early American plates did.
The numbering format on "Classic Vehicle" plates initially continued where the "Early American" series left off. This continued until late 2015. At that time an incoherent numbering format of 01-ABCD was introduced. The first plates began with "00" followed by 4 letters, it appears the letters are progressing before the numbers will move to "01".
Connecticut also has a "Year of Manufacture" program, where classic car owners can display plates from the year of the vehicle's manufacture. First, however, the car must be registered with Classic Vehicle plates, which must remain in the vehicle at all times. This program hasn't been as popular as it is in other states, and it's not too common to see classic cars on the roads with anything other than Classic Vehicle plates.
Classic Motorcycle plates are also issued, as are vanity plates.
Click the photo above to see this type in use.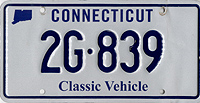 Classic Vehicle plate in the original numbering format.
Classic Vehicle plate in the current numbering format.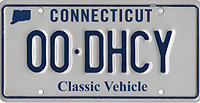 The '00' stays constant, the letters progress in a nonsensical fashion.
This numbering format is shared with Motorcycle and Special Equip. plates. Presumably, after reaching 00-ZZZZ it will roll over to 01-AAAA.