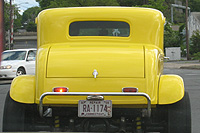 Repair plates were first issued in sometime in the early 1920s. These plates began with an 'R' prefix. At this time, plates with a "Repairer's License" legend were also issued. These plates were the business license, hung up in the shop.
Once the 'R' series was used up, an 'O' prefix was used.
Plates are issued to a garage as a set with the same number. The letter following the 'R' changes for each plate issued to the shop. I.e., RA 12, RB 12, RC 12, and so on will go to the same shop.
In 1932, "Repairer" was spelled out on the plates, and a stacked two-letter prefix was used. For the 1949 plates, the legend was shortened to "REP", stacked vertically. The design of these plates essentially followed that of dealer plates from here on.
With the larger plates introduced in 1954, the 'O' series was discontinued. The old 'O' numbers were transformed to 'R' series numbers by adding 1000. Thus, O/A 136 became R/A 1136.
Starting in 1961, the plates were changed every year. Even numbered years were white letters/numbers on a blue background, and the color scheme was reversed for odd numbered years. This practice continued until 1980.
See Repair pages 2 and 3 for details from 1971 onward.
Click the photo above to see this type in use.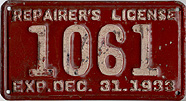 1933 "Repairer's License" Plate
These were hung in the shop, showing the license number of the facility.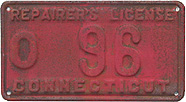 ~1935/Exp. 1936(?) The license number is again the license number of the facility (O 96 in this case). The actual plates used on the vehicles would be O/A 96, O/B 96, etc.
Expiring 1937 Repairer's License
Colors same as 1936 plates.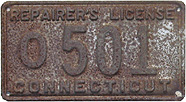 Not sure of the date of this plate. This one is in the same colors used for 1937. Please advise if you can narrow down the dates of these plates.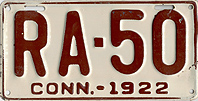 1922.
This was probably the first year for this type.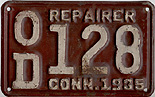 1935
This is the actual license plate used on the vehicles. There was an 'R' series and an 'O' series used.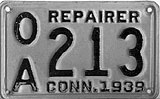 1939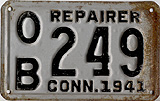 1941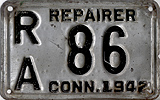 1942
1952
This plate is aluminum and has white reflective Scotchlite, ca. ~1951.
1952
From same garage as O/A 609, but with yellow Scotchlite (ca. ~1948). Perhaps the white one is a later remake, considering how poorly these plates held up.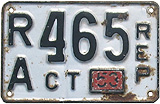 1953
The reflectorized plates got so beat up so quickly that for 1953 plain painted steel plates were issued.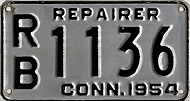 Larger steel plates were used for 1954 – 1956 (possibly '57 too)
When these larger plates came out, the 'O' series plates were made into 'R' series plates with 1000 added to the number. Thus, this plate number would have been 'O/A 136' up until 1954.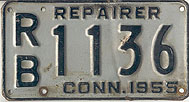 1955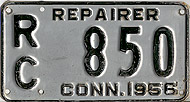 1956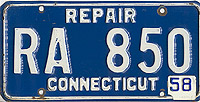 1958
Now with standard-sized 6×12 plates.
"Repairer" was shortened to "Repair" for some reason. That would seem odd, as I'm sure they didn't consider shortening "Dealer" to "Deal" at the same time.
1959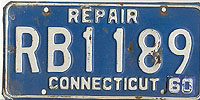 1960
Tab on a stamped '59 base.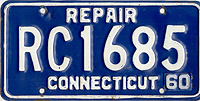 1960
Tab on an undated base.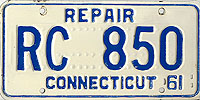 1961
As with Dealer plates, the annually-reversing color scheme was used.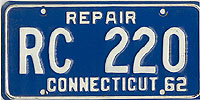 1962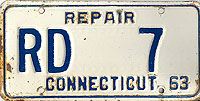 1963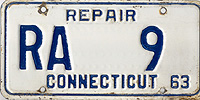 Another low-number 1963
1963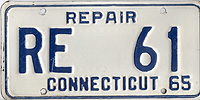 Another low-number 1963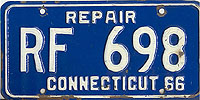 1966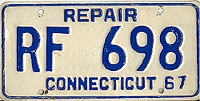 1967
All of these '698' plates are from the same garage.
1968
'68 seems to have been a bad year for dealer and repair plates. Many today are pretty rusty with corrosion under the paint- this one isn't so bad.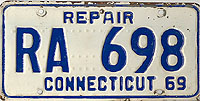 1969