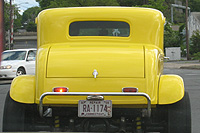 Starting in 1961, the plates were changed every year. Even numbered years were white letters/numbers on a blue background, and the color scheme was reversed for odd numbered years. This practice continued until 1980.
Instead of being replaced in 1981, the 1980 plates were revalidated with decals expiring in February 1982. There are no dated 1981 Repair plates. These plates were used through 1984.
In 1985, the colors were reversed, and revalidated with decals through 1988. In 1989, the colors went back to white on blue, and these plates were used with decals through 1997.
Click the photo to see this type in use.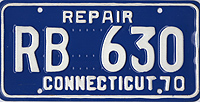 1970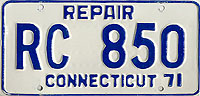 1971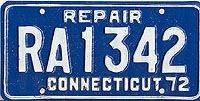 1972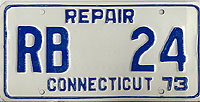 1973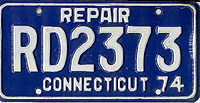 1974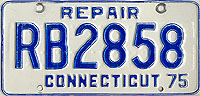 1975, with a very high number
1976
1977, with the new narrower dies.
1978. This is actually a '76.
Some no doubt crooked mechanic got another
year out of this plate with a screwdriver, a hammer, and some white paint. What really makes this plate stand out is that the number/letter dies for the 1978 plates were completely different. I wonder how many people this actually fooled.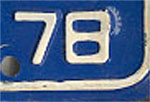 Close-up of the '76-to-'78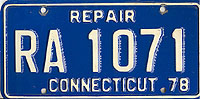 A genuine 1978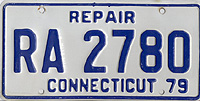 1979. The last of the annual issues.
1980
There were no 1981 plates.
The 1980 plates were used through 1984.
1980 with 1982 decal.
1983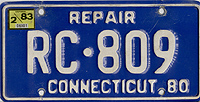 Another 1983.
This is actually an error plate – note the dot separator.
1984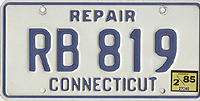 1985
The colors were reversed for 1985.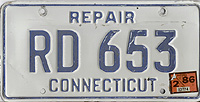 1986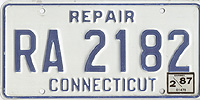 1987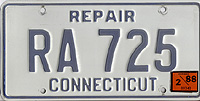 1988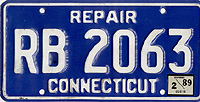 1989