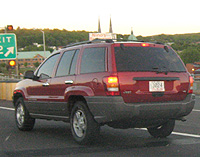 These plates are issued for temporary registrations – such as when purchasing a used vehicle or registering temporarily in order to have it inspected for permanent registration. Camp. Trailer, Camper, Commercial and Motorcycle are the types presently available for purchase. Combination and Commercial Trailer used to be issued as well.
Temporary Dealer and Repair plates are also issued, usually when a permanent plate has been lost.
These plates have holes punched in them for attachment in the same manner as a regular plate, however they often appear taped inside the rear windshield of the vehicle.
These plates are now valid for a period of 10 days.
Up until the early 1980s there were also metal temporary plates of similar design to regular Commercial, Dealer, Repair, etc. plates, with a 'T' suffix. These were typically used for vehicles whose plates were lost.
"In-Transit" plates of a similar design are issued, for purchases of a vehicle in Connecticut by an out-of-state owner.
Click the photo to see this type in use.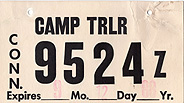 1988 Temporary Camp Trailer
Interesting that this plate doesn't have the "Temp." legend on it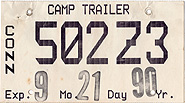 1990 Temporary Camp Trailer
These plates used the "Z" series.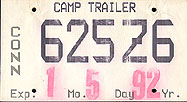 1992 Temporary Camp Trailer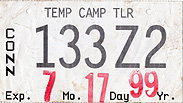 1999 Temporary Camp Trailer
The "Temp" legend was eventually added.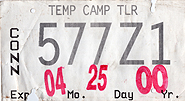 2000 Temporary Camp Trailer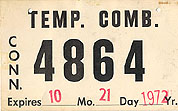 1972 Temp. Combination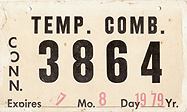 1979 Temp. Combination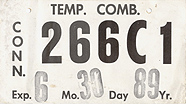 1989 Temp. Combination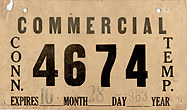 1963 Temp. Commercial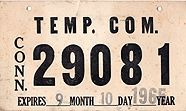 1965 Temp. Commercial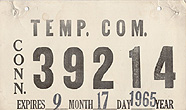 1965 Temp. Commercial
This one has a narrower legend for the 'TEMP. COM.'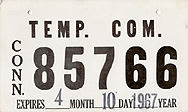 1967 Temp. Commercial
From a 1941 Pickup truck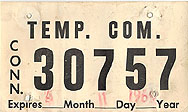 1969 Temp. Commercial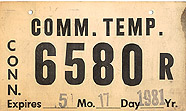 1981 Temporary Commercial. Like temporary passenger plates at this time, the caption was reversed from 'Temp. Comm.' to 'Comm. Temp.' for a short while.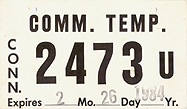 1984 Temp. Commercial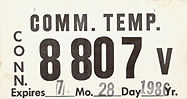 1986 Temp. Commercial
1987 Temp. Commercial
In 1987 the letter was bumped over and became full-sized.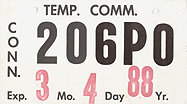 1988 Temp. Commercial
1990 Temp. Commercial
The "computerized" design came out in 1988.
1992 Temp. Commercial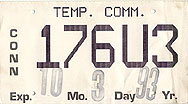 1993 Temp. Commercial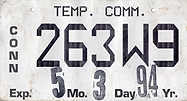 1994 Temp. Commercial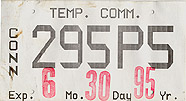 1995 Temp. Commercial
1997 Temp. Commercial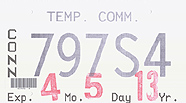 2013 Temp. Commercial
The barcode is a decal with the plate number on it. This plate was on a 1953 Dodge M-37.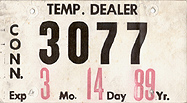 1989 Temp. Dealer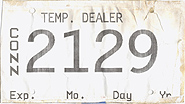 The date is washed out; probably from the late 1990s/early 2000s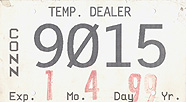 1999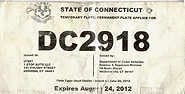 2012 Temp. Used Dealer

1978 Temp. Motorcycle

1979 Temp. Motorcycle

1983 Temp. Motorcycle

1997 Temp. Motorcycle

1998 Temp. Motorcycle

1998 Temp. Motorcycle
A higher number, in the newer style, but expiring about a month earlier than the plate shown to the left.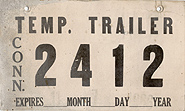 1966 Temp. Trailer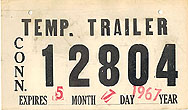 1967 Temp. Trailer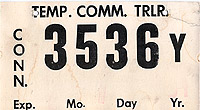 1984 Temp. Commercial Trailer
It is odd to see this full legend – to distinguish it from Temp. Camp. Trailer?