These plates are issued to passenger vehicles for temporary registrations – such as when purchasing a used car or registering a car temporarily in order to have it inspected for permanent registration.
These are verified back into the 1940s, as cardboard plates similar to the design of the 1954 pictured below. Various design tweaks as pictured below took place over the years.
These plates have holes punched in them for attachment in the same manner as a regular plate, however they often appear taped inside the rear windshield of the vehicle.
These plates are now valid for a period of 10 days.
In 2015 the design of these plates was completely overhauled.
Up until the early 1980s there were also metal temporary plates of similar design to regular passenger plates, with a 'T' suffix. These were typically used for vehicles whose plates were lost.
From 1992 until the late-2000s, when purchasing a new car, the car was issued either regular passenger license plates through the dealer or a yellow 'Temporary Registration Certificate'. These are detailed on their own page.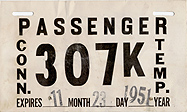 1951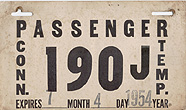 1954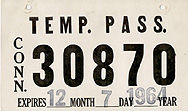 1964
From a 1937 Cord Phaeton Conv. bought from an individual in Haddam, CT on Nov. 27, 1964
1965
1966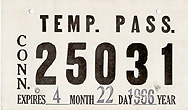 Another 1966
Very nice condition for one of these plates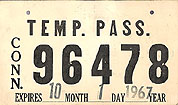 1967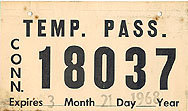 1968
The "CONN" legend lost its serifs sometime between late 1967 and early 1968, possibly as the numbering series rolled over. The date legend typeface was changed as well.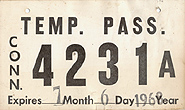 1968
Next, a letter suffix was introduced.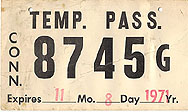 1971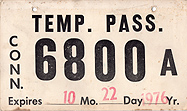 1976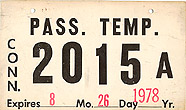 1978. Numbering series rolled over back to 'A'.
I have no idea why the caption was reversed from "TEMP. PASS." to "PASS. TEMP." for a short period of time.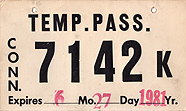 1981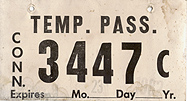 1982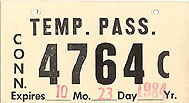 1984
1986
Minor change in formatting.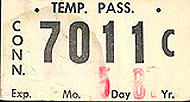 1987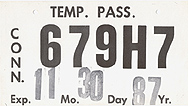 1987
A new numbering format was introduced in 1987. A full-sized letter was used for the first time.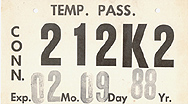 1988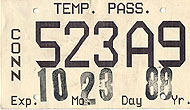 1988
The "computerized" design came out in 1988, and the plates were changed from printed cardboard to a lighter cardstock.
1989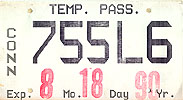 1990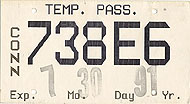 1991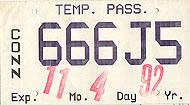 1992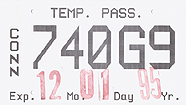 1995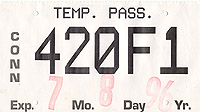 1996
Very slight changes in the font for the "CONN" and lower legends.
1997
The more "modern-looking" computerized plates came next. However, the fonts for the "CONN" and lower legends took a step backwards to the previous design.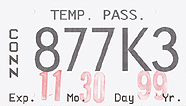 1999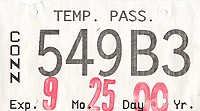 2000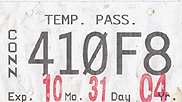 2004
I've about given up on trying to figure out the numbering system on these plates.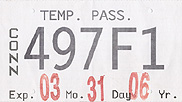 2006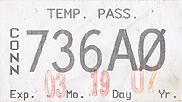 2007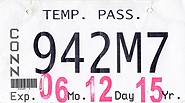 2015