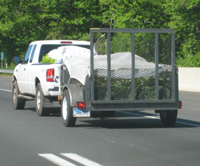 Camp Trailer plates are issued for use on privately-owned trailers. While they are certainly used on camping trailers, they are also used on pretty much any light-duty non-commercial trailer – including boat trailers.
This type started in 1924, with plates similar to regular commercial plates except for a 'B-' prefix. This continued until 1932 when "Camp Tr." was spelled out for the first time, and the 'B-' was dropped.
There were various design iterations throughout the years. The numbering format remained all-numeric from when the 'B-' prefix was dropped through mid-2015. Presently Camp Tr. plates are issued in the "omni-format" AA-12345 format, shared with passenger car, commercial, and pretty much every other type of plates.
Camp Trailer plates are also available as vanities, as well as a number of the special-interest types. These use a stacked 'CMTR' in the serial to designate the type.
Click the picture above to see this type in use.
See Also: Prototype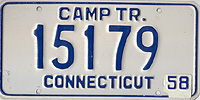 1958
Blue on white steel plates were used for '58 and '59.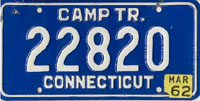 1962
Like passenger car plates, tabs were used through 1962.
1964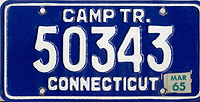 1965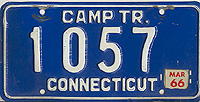 1966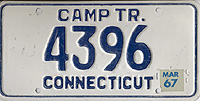 1967
Back to blue on white, but this time the plates were aluminum.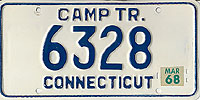 1968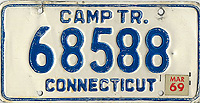 1969
1971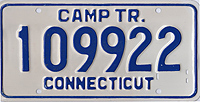 Early 1970s
6 digits were reached on the tab slot base.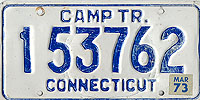 1971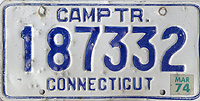 1974
As if this weren't beat-up enough, it suffered a bit more damage going through the postal system…
1977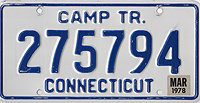 1978
1980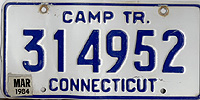 1980 revalidated to 1984.
A dot and reflectorization were added sometime
between this plate and the 316-000 series.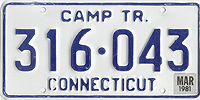 1981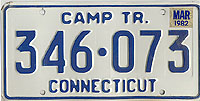 1982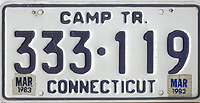 1983
This plate was originally an '81 expiration.
ca. early/mid 1980s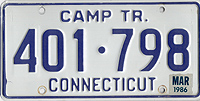 1986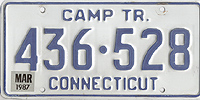 1987
1988
1989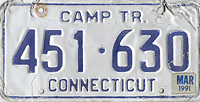 Revalidated to 1991.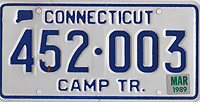 Another 1989.
The map base was introduced between 451-630 and 452-003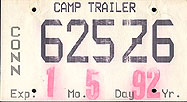 1992 Temporary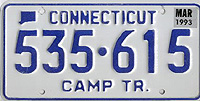 Map base style, 1993 Expiration
1994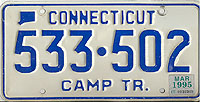 1995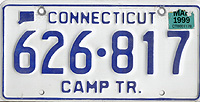 Issued around 1997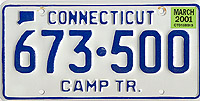 2001
Numbers up to just over 678-500 have been seen on the map base.
2002 Map Base – this was the last year these plates were valid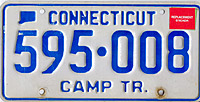 With replacement sticker, awaiting new plates.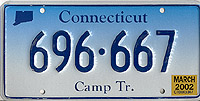 2002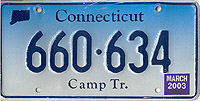 2003
Older number re-made on the new base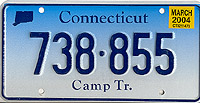 2004, with odd-colored darker decal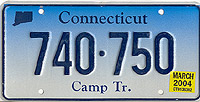 2004, with standard yellow decal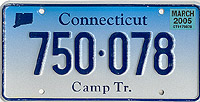 2005
2009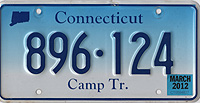 2012
This was the last year for date stickers on Connecticut plates.
Near the end of the numbering series.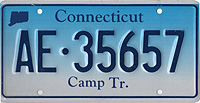 Current format