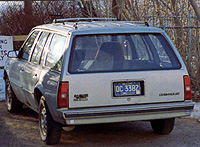 Continuing the practice begun in 1961, Used Dealer plates reversed colors every year – white on blue for even years, and blue on white for odd.
1980 was the last embossed date – for a while. There were no dated 1981 Used Dealer plates; a 1982 decal was used on the 1980 plates. At this time, the month of expiration was also indicated on the decals – February.
For the 1985 through 1987 expirations, the plate colors were reversed to blue on white. Distinctive decals continued to be used, though beginning with 1986 the month of expiration was changed to April.
1988 saw a return to white on blue – making the plates the same colors as regular passenger car plates once again. Several key differences remained, though – there was no dot separator between the letters and numbers, and the little map graphic did not appear on these plates.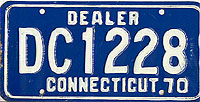 1970
1971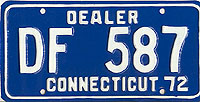 1972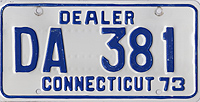 1973
1974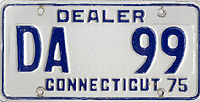 1975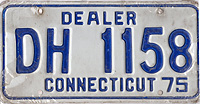 Another 1975 with space between the letters and numbers.
This wasn't typically done on 4-number dealer plates at this time.
The two narrow '1's in the number likely allowed this to happen here.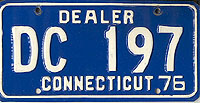 1976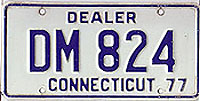 1977
The new, narrower dies were introduced for the 1977 expirations.
1978
Highest letter available for a used dealer. This one is still in the original plastic. Too bad the plastic has holes in it, and now there's dirt inside.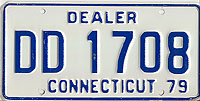 1979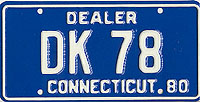 1980
Starting with the 1980 plates, reflectorization was added to the numbers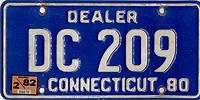 1982
There were no 1981 expirations.
Decals were used on the 1980 plates through 1984.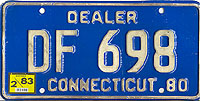 1983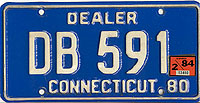 1984
1985
New plates were issued with reversed colors, to be used through 1987.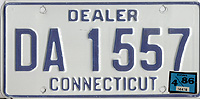 1986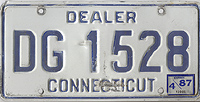 1987
This is a typical plate in that it has no dot separator.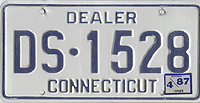 1987
Another plate from the same dealer, but WITH a dot.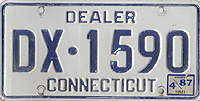 Another 1987 with a dot separator. The serial number on the decals for this plate and the previously pictured 'dot' plate are pretty close to each other. These were probably re-makes or additional plates made later on.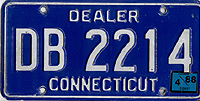 1988
Colors were reversed again. These plates saw much more use than the last few series – they were used through 1997.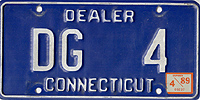 1989