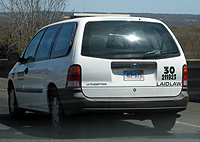 These plates are used on minivans, SUVs, and small buses which transport students. Larger school buses continue to use "School Bus" plates.
This type was first spotted on the roads in May, 2007.
There are two main varieties of this type: Combination and Service Bus. Both types have the "Student Transport" legend along the bottom of the plate. Combination plates have an embossed "COMB" to the right of the serial number and Service Bus plates have a screened "SERV BUS" legend in that location. Combination plates are used on smaller vehicles, while Service Bus plates are used on larger vans and "short" school buses. The distinguishing factor between these types is the number of seats in the vehicle.
Combination plates are randomly interspersed in the Combination numbering series or with the S1234S format, while Service Bus plates were originally issued in the S1234S format.
Click the photo to see this type in use [Coming soon].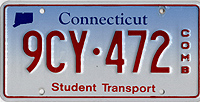 Combination type
Combination type, ca. early 2000s number re-made in this type.
This plate suffers from the rapidly degrading version of the reflective sheeting.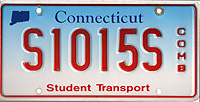 Combination type in the Student Transport exclusive numbering format.
These likely started at S1000S.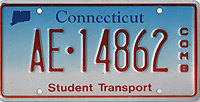 Current plates are in the same numbering format now used for most types, but with some of the thinnest characters in the history of US license plates – the die stroke is only 5/32″ thick! These plates are very difficult to read at any distance. This plate was made with Avery reflective sheeting.
A later example made on 3M sheeting.