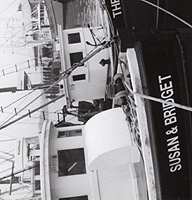 These plates are used on certain commercial fishing boats. The State DEEP is responsible for issuance of these plates.
This type appears to have started in the late 1970s or early 1980s.
There are three different color decals used – red, yellow and green. The color of the decal designates the type of fishing the vessel is licensed for- Commercial Fishing (trawling, lobstering), Commercial Lobster Pot (lobster pots) or Commercial Finfish (gill nets, commercial angling, fish pots, other types of nets, etc).
This type is still issued, but recent plates are rare. Licenses are no longer issued unless the applicant already had a valid registration from June 1, 1995 through December 31, 2003. Newer plates are dark blue on reflective silver, with the dies those used for dealer plates. The large date decal is still used.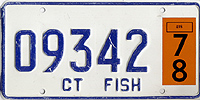 1978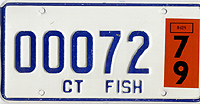 1979
Numbering appears to have started with 00001.
1980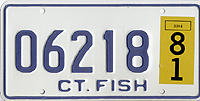 1981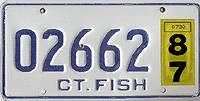 1987
1988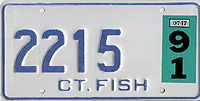 1991
Sometime around 1990 the lead zeroes were dropped from some new plates.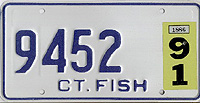 1991
1992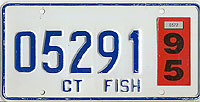 1995
This is an older plate, with different dies for the CT and FISH (and no dot after CT).
1995
1997
Huge jump in numbering for some reason.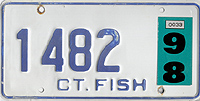 1998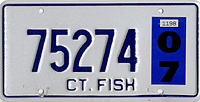 2007
The background is now fully-reflectorized.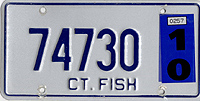 2010