These plates are issued to vehicle manufacturers who are headquartered in Connecticut and, starting in 1972, to distributors of new vehicles.
This type was one of the first non-passenger types in Connecticut, having started in 1907.
This is now one of the more uncommon types in Connecticut. In the early 1900s, there were a number of vehicle manufacturers (Pope Hartford, Corbin in New Britain, etc). Today there are only a couple of manufacturers who operate offices in the state.
Numbering and colors follow that of Dealer and Repair types, but with an 'M' prefix as shown below.
Oddly enough, even though these are like Dealer plates in nearly every other way, they were still validated with passenger stickers through the mid-2000s rather than the embossed dates which Dealer plates used during this time.
Reference: Chapter 246 Sec. 14-1. (44); Sec. 14-67d.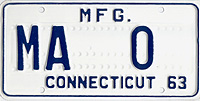 1963 Sample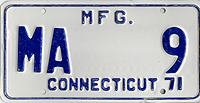 1971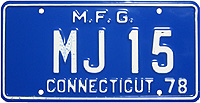 1978
Around 1977 the legend was changed from "MFG." to "M.F.G."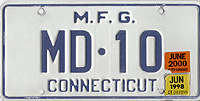 2000