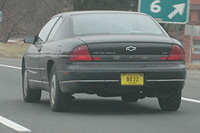 Transporter plates are 'floater' plates which have a variety of uses in Connecticut.
These include: Movement of unregistered vehicles for the purposes of inspection, sale or transfer, use on vehicles being repossessed, movement of storage or house-type trailers with removable axle assemblies, transporting boats between a dealership and demonstration location, and movement of vehicles to and from construction sites.
The use of Transporter plates differs from that of Dealer and Repair plates in that the plates may not be loaned, and may not be used for personal business.
This type is believed to have started in the late 1940s. The plates have an all-numeric serial and are captioned 'Trans.'.
Starting in the 1960s, there were two varieties of Transporter plates – one for vehicles such as passenger cars, and another for commercial-type vehicles. The colors for the two classes were reversed from each other, and the colors for each were reversed every year as well. Thus, the color scheme for a passenger transporter in, say, 1966 would be the same color scheme as that of a commercial transporter in 1967. The annual reversing of colors ended in 1980, when stickered plates came into use.
In 2002, the distinction between types was done away with, and there is now only one general class of Transporter.
Transporter plates have loosely followed the design of Dealer and Repair plates. In the 1980s, while Dealer and Repair plates used special decals, Trans. plates used standard passenger decals. With the general reissue in 2000, Trans. plates became maroon on reflective yellow – still validated with passenger decals, unlike Dealer and Repair plates which now have an embossed date and are replaced every two years.
Transporter plates expire annually on the last day of March.
Reference Sec. 14-35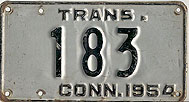 1954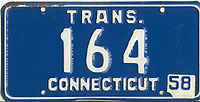 1958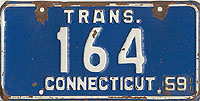 1959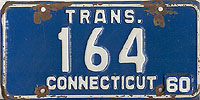 1960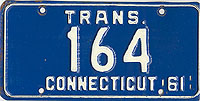 1961
These '164' plates are all of the reverse-color variety, as evidenced by this 1961 plate. How were the two types distinguished pre-1961, before the reverse-color scheme came into use? Let me know if you can tell me.
1962 Commercial Transporter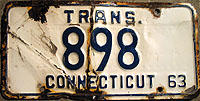 1963 that's seen better days.
I received a pair of these plates that seemed
to be permanently mated with a rusty bolt and nut. It took a bit of work, but I was able to finally cut through the bolt and separate them.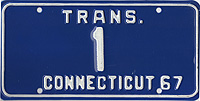 1967 Commercial Transporter
1968 with '69 decal.
I don't know how common this was, or if this decal even belongs there.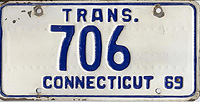 1969 Passenger Transporter
1970 Passenger Transporter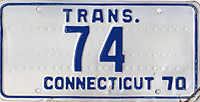 1970 Commercial Transporter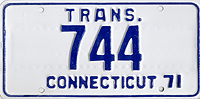 1971 Passenger Transporter
1971 Commercial Transporter Sample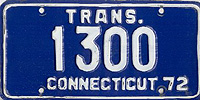 1972 Passenger Transporter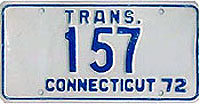 1972 Commercial Transporter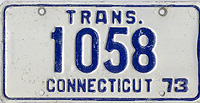 1973 Passenger Transporter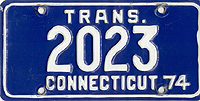 1974 Passenger Transporter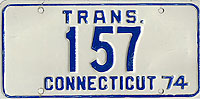 1974 Commercial Transporter
1975 Passenger Transporter
1975 Commercial Transporter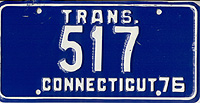 1976 Passenger Transporter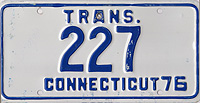 1976 Commercial Transporter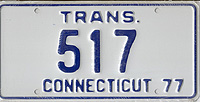 1977 Passenger Transporter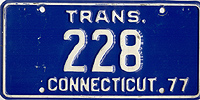 1977 Commercial Transporter.
Interestingly enough, this plate has the reflective beading on the numbers – this didn't appear on Dealer/Repair/Trans. plates until the 1980 plates.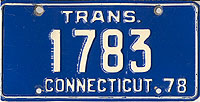 1978 Passenger Transporter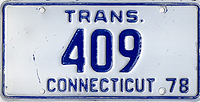 1978 Commercial Transporter.
There's something odd about this plate and it took me a couple of minutes to put my finger on it: during this time Connecticut plate blanks were white on one side and blue on the other. So, if you wanted a blue plate you stamped the blue side and if you wanted a white plate you stamped the white side. You ended up with the back of the plate being the other color. This plate was stamped on the blue side initially, probably as a mistake, then painted over in white. So here we have a white plate with a white back.
1979 Passenger Transporter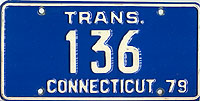 1979 Commercial Transporter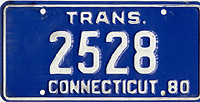 1980 Passenger Transporter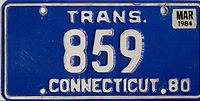 1984. While Dealer and Repair plates used a different type of decal from '82 to '91, Trans. plates used regular passenger-style decals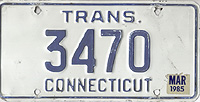 1985 Commercial Transporter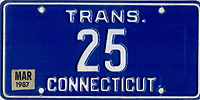 1987 Passenger Transporter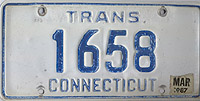 1987 Commercial Transporter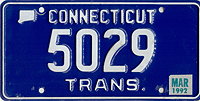 1992 Passenger Transporter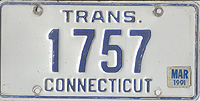 1991 Commercial Transporter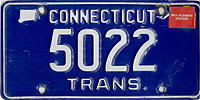 ca. 1992 Passenger Transporter used until the general reissue.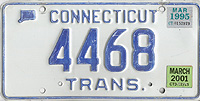 1995 revalidated through 2001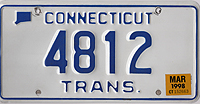 1998
Using short dies for the state name.
Most of a 2008 Transporter plate.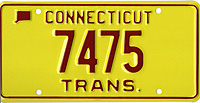 A complete plate.