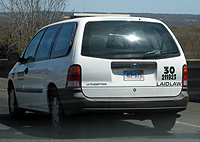 These plates are used on minivans, SUVs, and small buses which transport students. Larger school buses continue to use "School Bus" plates.
This type was first spotted on the roads in May, 2007.
There are two main varieties of this type: Combination and Service Bus. Both types have the "Student Transport" legend along the bottom of the plate. Combination plates have an embossed "COMB" to the right of the serial number and Service Bus plates have a screened "SERV BUS" legend in that location. Combination plates are used on smaller vehicles, while Service Bus plates are used on larger vans and "short" school buses. The distinguishing factor between these types is the number of seats in the vehicle.
Combination plates are randomly interspersed in the Combination numbering series, while Service Bus plates were originally issued in an S1234S format.
Click the photo to see this type in use [Coming soon].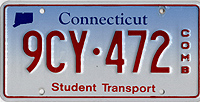 Combination type