These plates were issued by the Department of Transportation to oversize/overweight vehicles and trailers. They were used in addition to the regular registration plates.
The "State Highway Dept." plates started in 1949. It's reported that cardboard tabs were inserted into the slots in the plate – though I've yet to see an existing example of this. This type lasted until the early 1970s, when the "Heavy Duty Permit" type started.
The "Heavy Duty Permit" plates were flat screened plates. Later in the series, stick-on number decals were used for the serial.
Sometime in the early/mid 1980s the type was split into two categories: Oversize and Overweight.
These plates started off with Green borders and lettering screened onto a flat white plate. Reflective red number decals were used for the serial number, and regular validation decals were used – April, in keeping with the Commercial type.
Starting in 1987 or 1988, the borders were changed to blue, but still with the red decals.
Finally, in 1989 or 1990 the plate design was changed to red borders screened onto a flat white plate, with black number decals and a revised DOT logo to the left. This was the last style of this plate issued before the type was discontinued.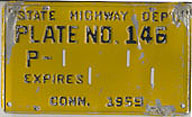 1959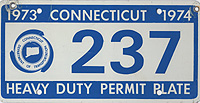 1974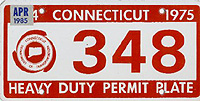 1975
I'm not sure the 1985 decal belongs on this plate.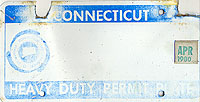 1980
There were once red decal numbers on this plate.
1988
An 'S-' prefix was used on the Oversize series.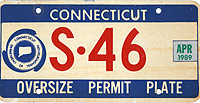 1989
1993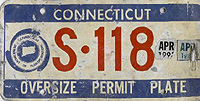 1993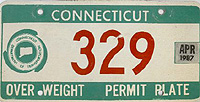 1987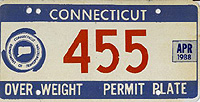 1988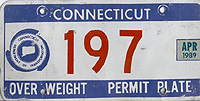 1989
1989
These plates were covered with a varnish or shellac to protect the number decals. Most eventually yellowed like this one.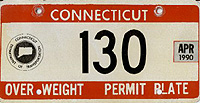 1990
This was the last design iteration of this plate.