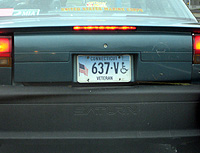 These plates are issued to veterans of the Armed Forces.
Initially, these plates were issued to those who suffered loss of a limb.
The first iteration of this type was identical to passenger plates with a 'DV' prefix followed by 1 to 3 numbers.
Later on, the 'Veteran' caption was added and all-numeric serials with 1 to 4 digits were used.
In late 1997 a new graphic plate was introduced, with a light blue gradient background and a flag to the left. These plates were now available to ALL veterans. The initial series of these plates was from 100-VET to 999-VET. Later, a generic 100-VAA series was started. Combination plates started in the -VET series then moved to an exclusive 100-VSA series.
Handicapped Veteran plates are also issued on this new base, with a 'V' suffix. See picture below.
See also:
POW for Former Prisoner-of-War plates on the Veteran base.
Reserved Series for various Veterans Organization related types and for DV- series plates.
Revalidated to 1978 Veteran.
I estimate this plate was originally issued sometime around 1960 based on the tab slots and die styles.
Initially, Veteran plates such as this were issued to those who suffered loss of a limb.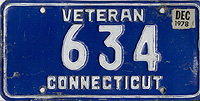 1978 Veteran.
1980s revalidated to 2002
ca. 2000s Handicapped Veteran
The ISA symbol is before the number on this plate, typically it was located after the 'V'.
Plate numbers below 1000 have a dot between the numbers and the 'V'.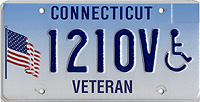 ca. 2000s Handicapped Veteran
The dot is omitted on numbers over 999.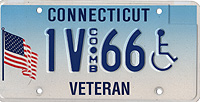 ca. 2000s Handicapped Veteran Combination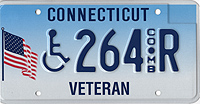 Another Handicapped Veteran Combination.
This number was transferred from the regular Handicapped Combination type to the Veteran type.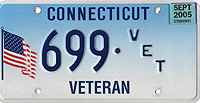 2005 Veteran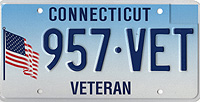 Recent graphic veteran plate, ca. 1999/2000.
After 999-VET was reached, a 100-'V'AA format started.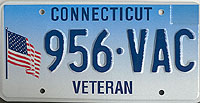 The numbering then continued in the -VAB, VAC, etc. series.
Veteran Amateur Radio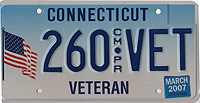 2007 Veteran Camper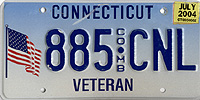 2004 Veteran Combination, with a remake of an existing number.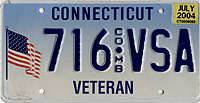 Another 2004 Veteran Combination.
New plates of this type were issued in blocks in the original -VET series, then moved to the -VSA series which was exclusive for Combination plates.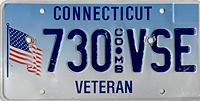 2007 Veteran Combination.
Continuing through the numbering series.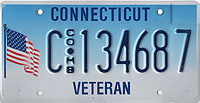 ca. 2020s Veteran combination, with the thin, unreadable dies.
Although this plate was made in the 2020s, the blank uses Avery sheeting from 2007 – there must have been a large excess supply of this style.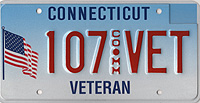 Veteran Commercial.
A very odd type; I'm not sure many were issued.

2006 Veteran Motorcycle