Connecticut now issues a vast assortment of special-issue passenger license plates. Some of these are sponsored by organizations, others support special interests, such as environmental programs.
Special thanks to fellow ALPCAn Erik Perotti for providing some of the pictures on this page.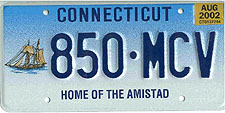 'Home of the Amistad'
[EJP Collection]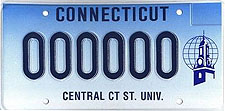 Central Connecticut State University sample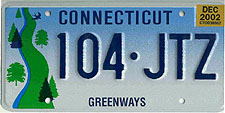 Greenways
[EJP Collection]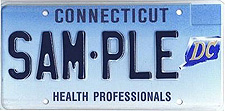 Health Professionals sample. I don't think this type was ever issued.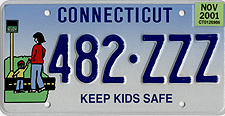 2001 Keep Kids Safe.
These were issued in the "KID", "TOT", "ZZZ" and "ZZY"- series. These ZZZ plates could have been named "Keep Kids Sleepy"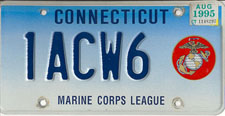 Marine Corps League
This plate is in the standard 'organizational plate' numbering format: 1ABC2
'Pets' plate. These started in the -PET series, followed by '-DOG', '-CAT', '-TLC', '-WAG', etc.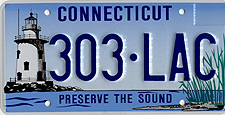 The first optional plate made available in Connecticut. Proceeds go to environmental causes related to Long Island Sound. General-issue plates began with "LIS-100", then moving to a 100-LAA format.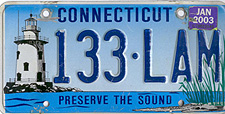 This is one of a few early plates made with letters and numbers stamped with taller Maine-style dies.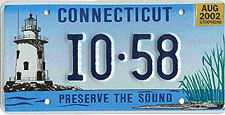 This one has an old number transferred to this base.
The standard numbering format is 123-"L"AA as seen above.
[EJP Collection]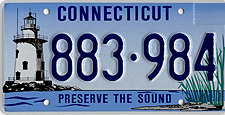 Another old number transferred to this base. This number was originally issued in the mid-1960s.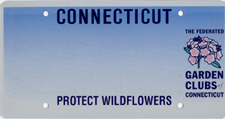 Protect Wildflowers blank.
According to a postcard circulated by this plate's sponsor when it was introduced (The Federated Garden Clubs of Connecticut), the plate features the state flower- the mountain laurel [Kalmia latifolia].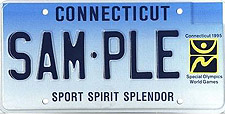 Special Olympics World Games plate, to support the Games held in Connecticut in 1995. A general "Special Olympics" plate is now issued instead.
'United We Stand' supporting the Rewards for Justice fund. The first run of standard plates was in the 100-'USA' series.
[EJP Collection]