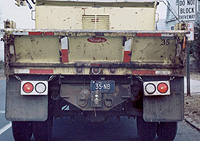 These plates are used on town/city government vehicles – police cars to dump trucks.
This type started in the mid-1970s. Prior to this, vehicles such as police cars used regular run-of-the-mill passenger car plates.
The 2 or 3 letters on the plate are the initials of the municipality.
Click Here for a list we've been compiling of the codes on these plates.
Municipal plates also appear on the 'Preserve the Sound' base, with a black-on-white validation decal reading 'Municipal' over 'CT'
There are also Municipal motorcycle plates – but only a handful of cities/towns use them. Most simply use regular motorcycle plates.
Click the image above to see this type in use.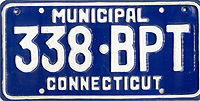 ca. 1970's
(Bridgeport)
ca. 1970's
(Hartford)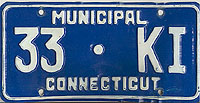 ca. 1970's
(Town of Killingly)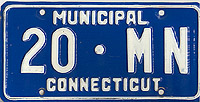 1970's (Middletown)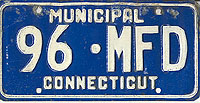 1970's (Milford)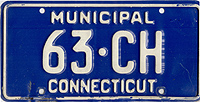 ca. late 1970s (Cheshire)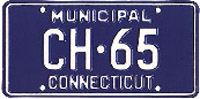 ca. 1985 (Cheshire)
I don't know why the letters and numbers are reversed- the usual format is 12-AB as seen in the previous picture.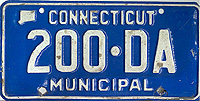 Map base Municipal Plate (Danbury)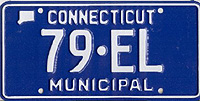 Map base Municipal Plate (East Lyme)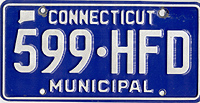 Map base Municipal Plate (Hartford)
These 3-number, 3-letter plates bear a striking similarity to regular passenger plates of the era- especially since the -HFD passenger series would have been issued around the same time this plate was in use.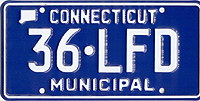 Map base Municipal Plate (Litchfield)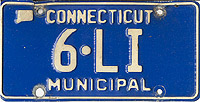 Map base Municipal Plate (Lisbon)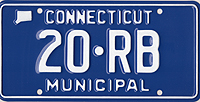 Map base Municipal Plate (Roxbury)
This plate was mailed to the town in mid-December 1998 (I have the envelope).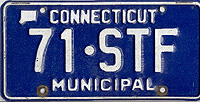 Map base Municipal Plate (Stafford)